Custom Construction with a Basement Water Problem
Did you say tough and dry? You mean compressed and damp here's a picture of us scraping off tough and dry waterproofing. There was no gravel next to it this home which is less than 10 years old. Because the Builder did not backfill the outside of the basement with gravel wet clay was all along the outside of the foundation next to the tough and dry board. The water from our Northern Ohio clay soil seeped into the waterproofing boards rendering them useless and created dampness in the walls.
The home in question is a large custom built home with a beautiful finished basement. Water in the basement was not part of the design plans. We were able to fix the problem. We had to dig out the foundation. Scrape the installed wet waterproofing barrier off the foundation and properly install waterproofing that works in our region. On-Call Waterproofings solution will keep the basement dry for many years to come. If you have new construction and a damp basement issue call us. We can help.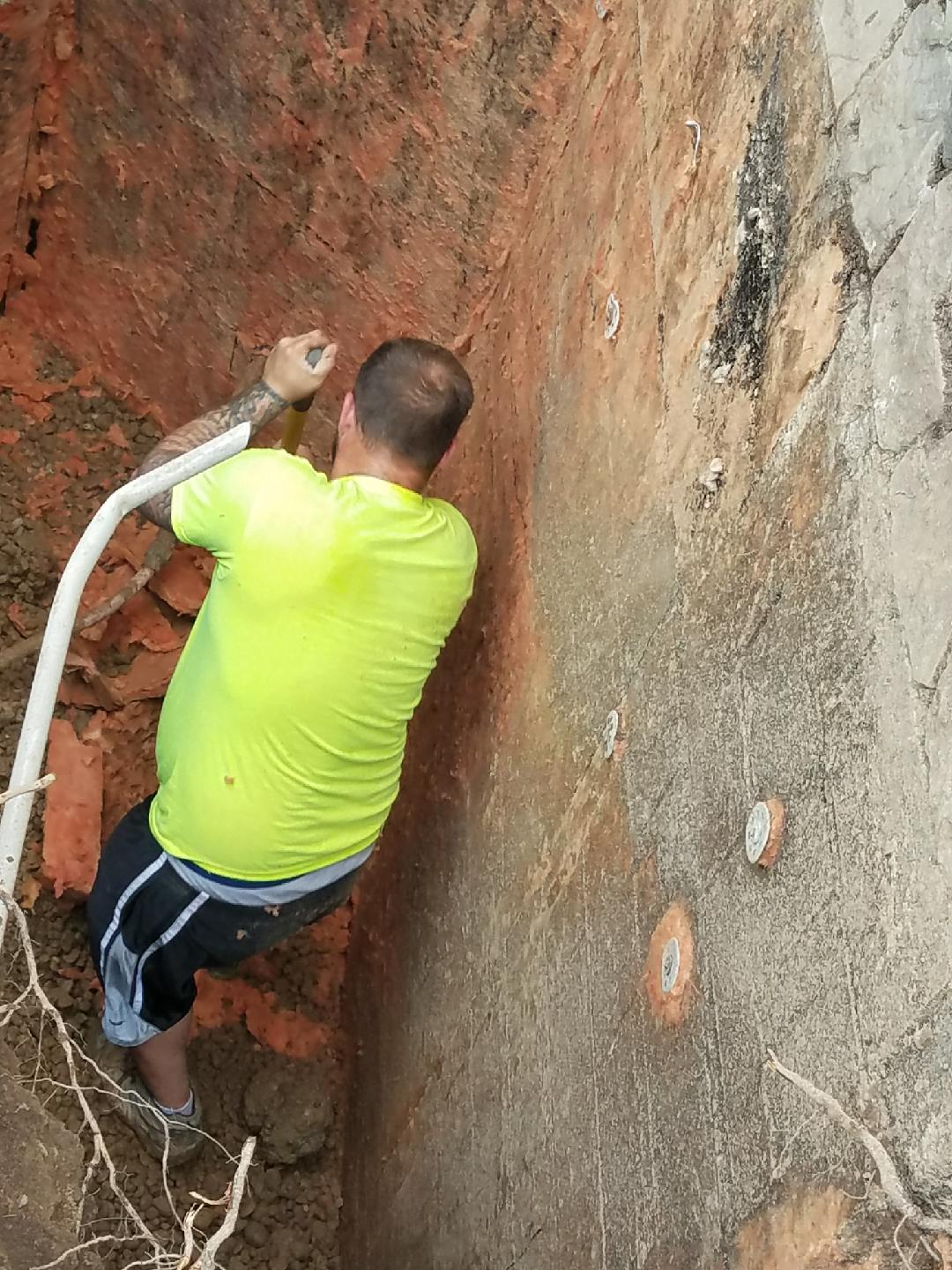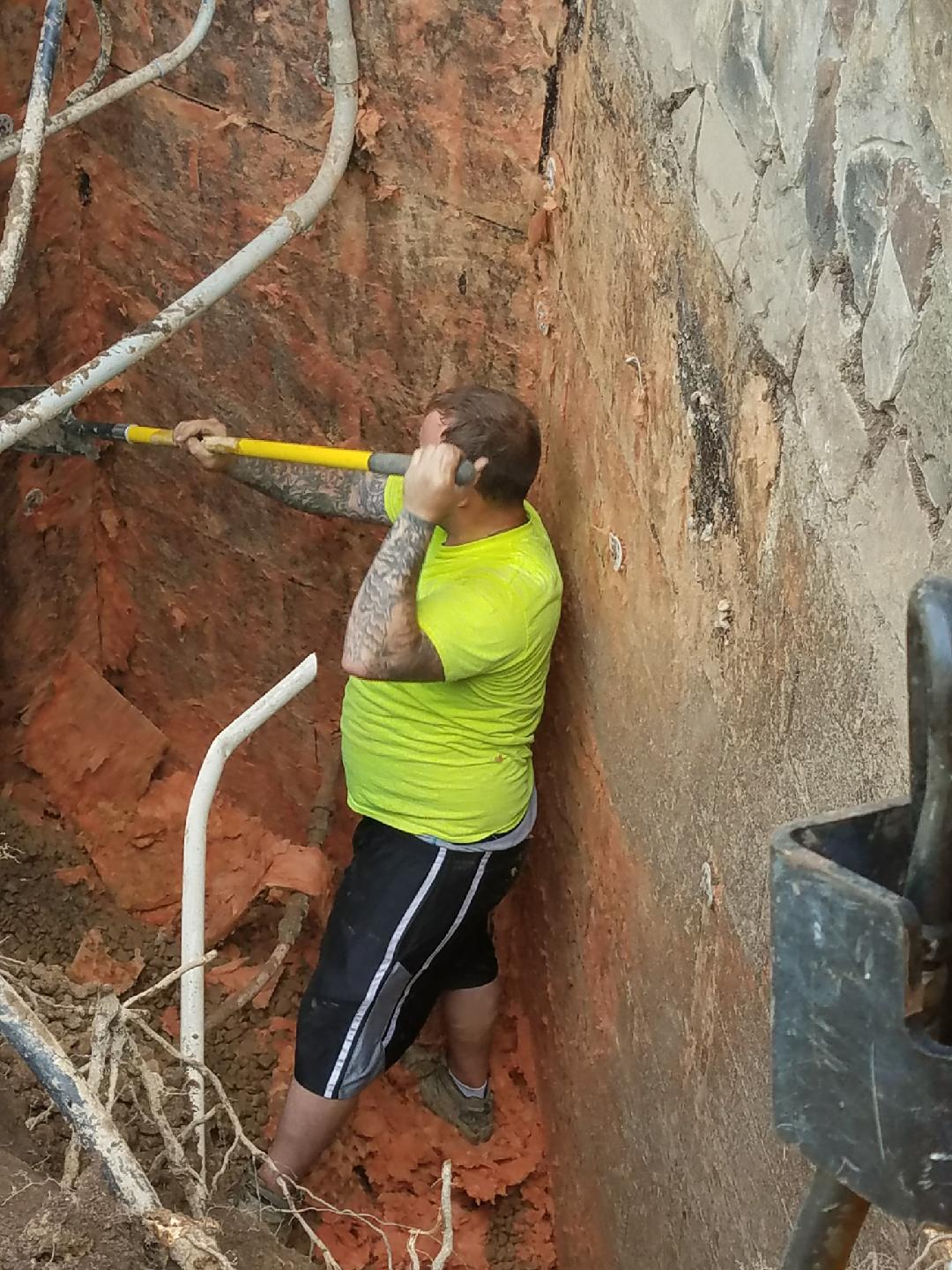 ---
Would you rather spend $20,000 to NOT fix your basement water problem or $3,500 to fix it?
The tree roots in the sewer line pictured below were causing water issues in our Parma clients basement. We were able to determine this by using our sewer camera enabling us to clearly see the tree roots. Another waterproofing contractor gave this homeowner an estimate of $20,000 to waterproof the basement which would not have solved the problem. The basement water issue being experienced by the homeowner was with the lateral sewer line to the street being blocked by tree roots and backing up water into their basement. The roots could not be water jetted out. We had to excavate to replace the main connections. Our price to correct the actual problem: $3,500. It pays to determine the cause before you "fix" the problem. We get to the root of your basement water problems. In this case quite literally.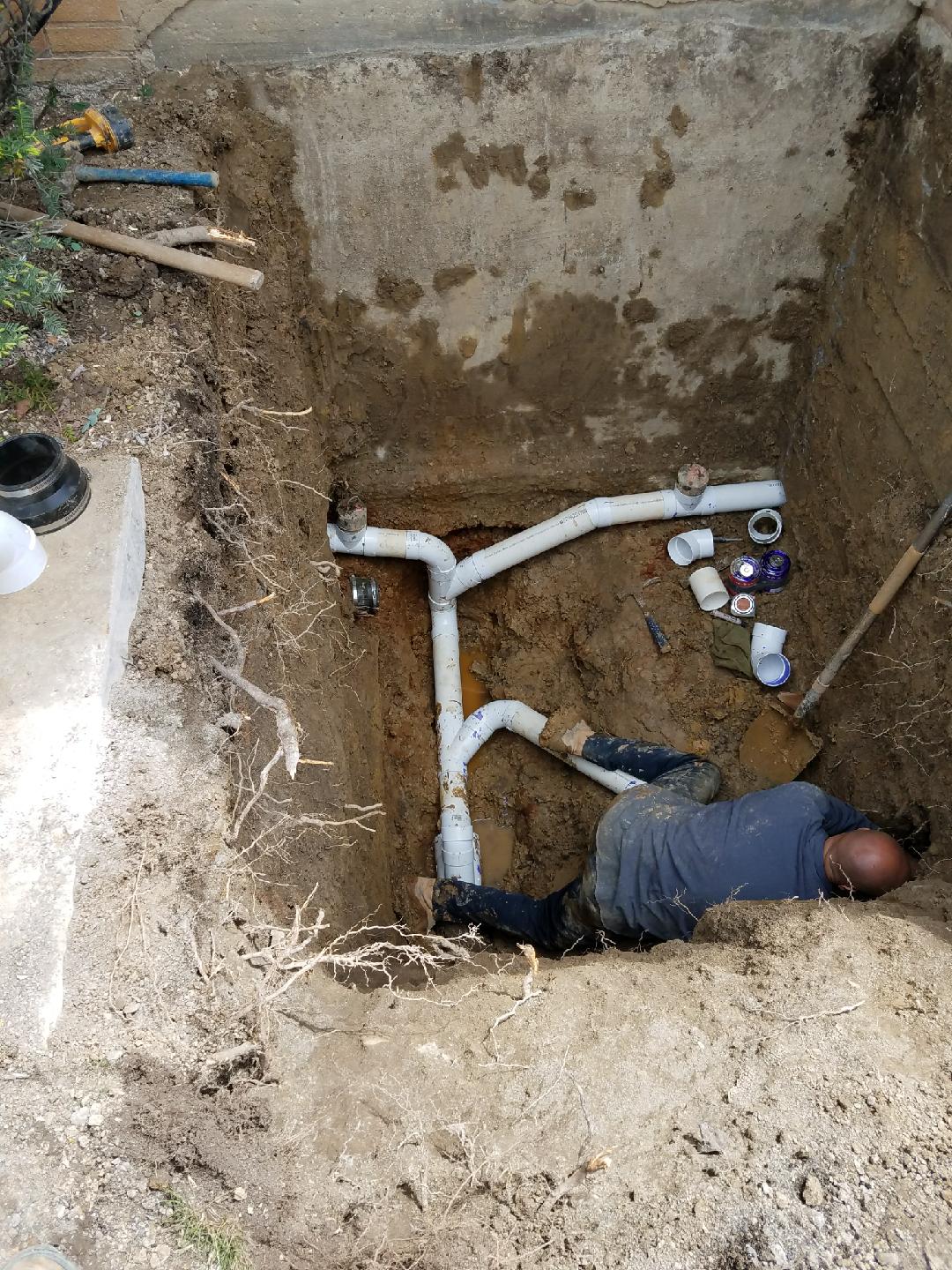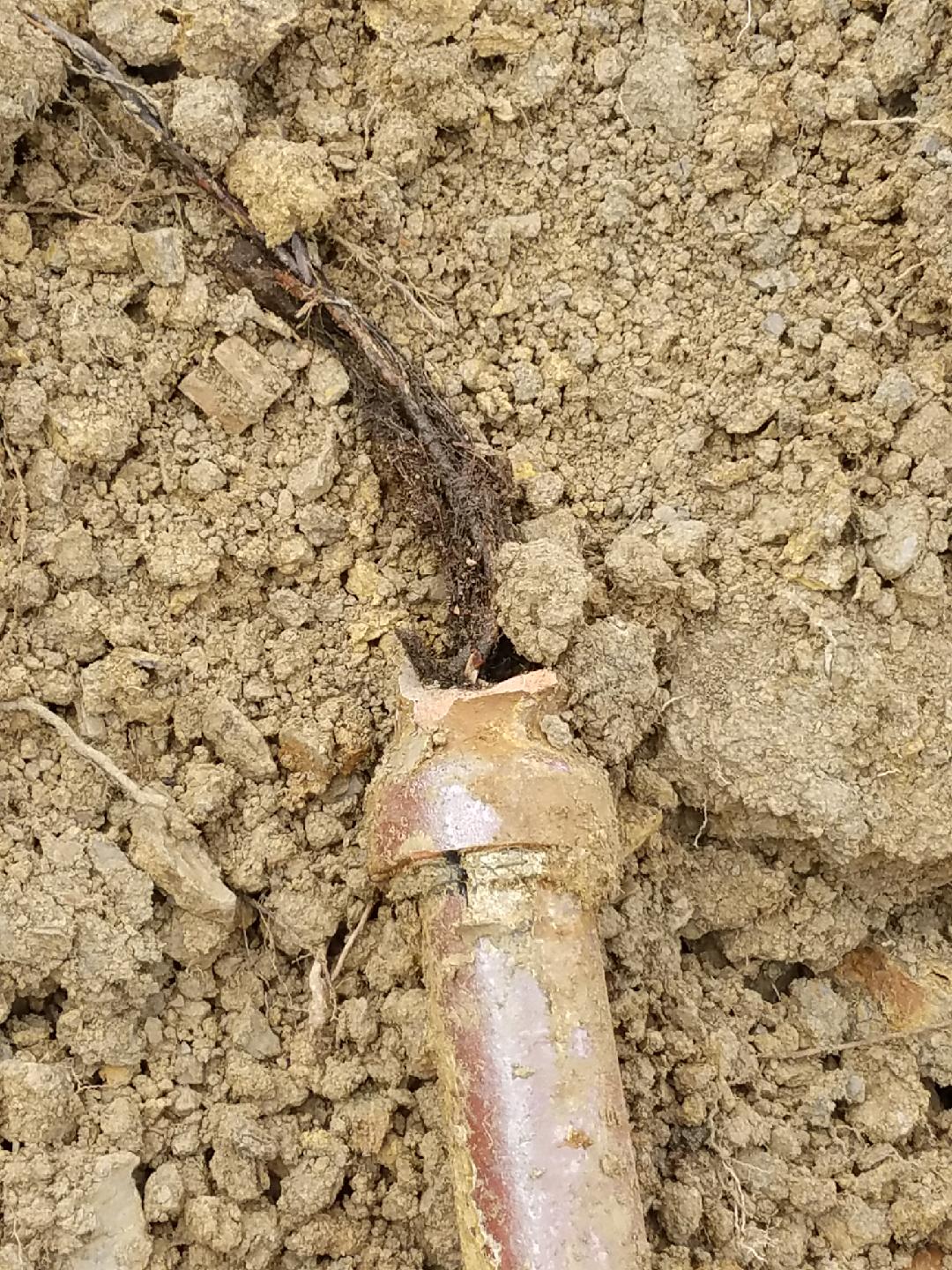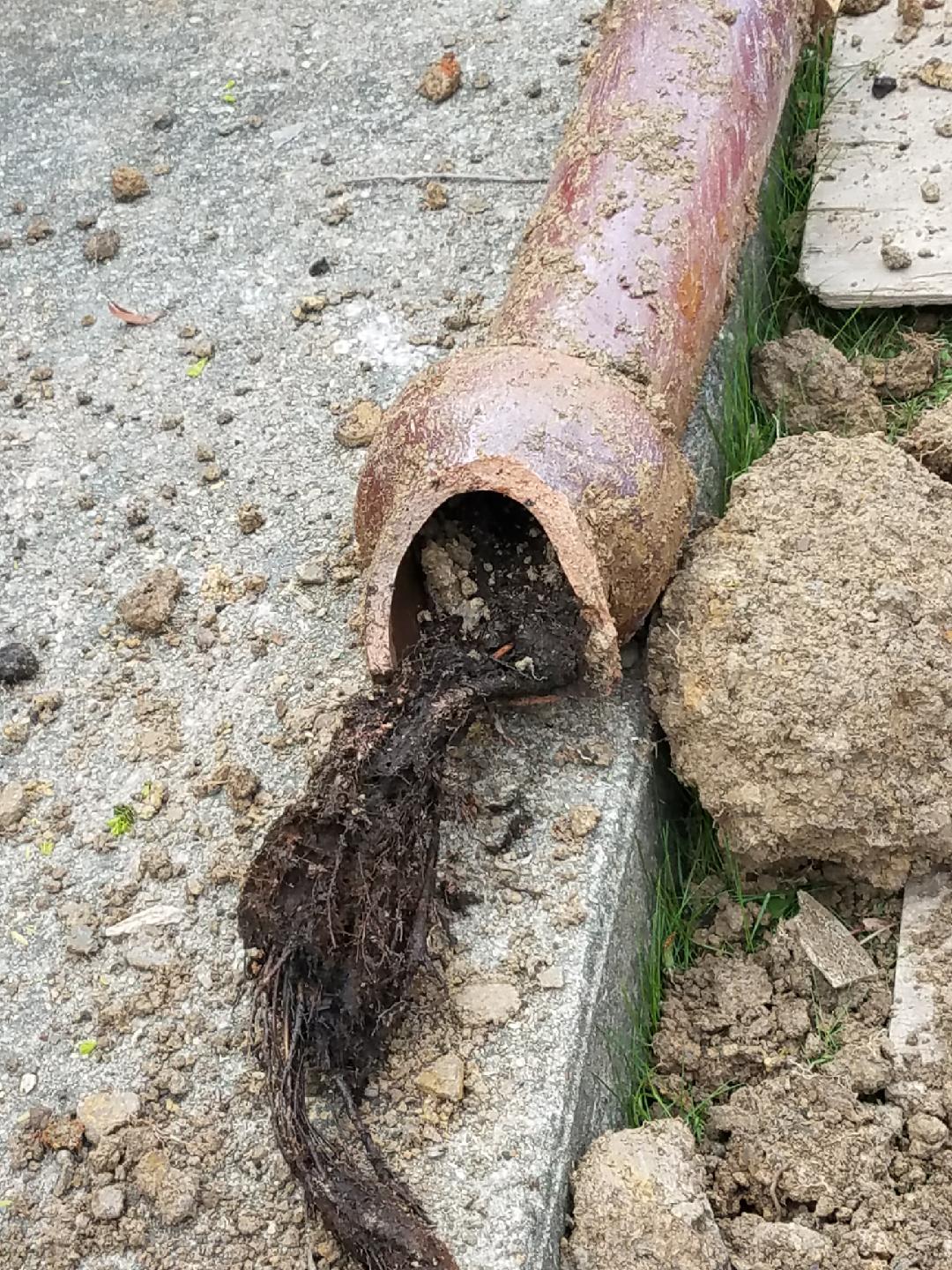 ---
Guard Your Mobile Phone Around Sewer Work!
Note to self, when you climb into a hole to finish a job for a client be aware of how you handle your mobile phone. Our own Frank Tomaro climbed into a hole to continue work to on a drainage line. While working on the drainage line in the hole Frank took a client call. Unfortunately when Frank hung up he inadvertently put his phone in his hoody pocket and not in the inside pocket where it would be protected. Going back to work on the clearing the line he thought nothing more about it.
The work that day was very important. It involved insuring the proper drainage of sewer lines in the event of a storm water surge. In the Cleveland area Lake Erie often becomes contaminated with sewer water after a large rain storm due to a problem with older sewage drainage systems. After large storms Lake Erie can be unsafe for swimmers because of sewage contamination in the storm surge water that drains into the lake. The West Creek Conservancy is working to stop this from happening. On-Call Waterproofing is a partner with WCC in their focused effort to keep sewer water out of the storm surge. On-Call takes extra steps to test for these issues and correct sewer contamination problems.
The day Frank lost his phone he was focused on correcting just such a contamination issue and insuring proper sewer line connections. He did not notice when his phone slid from his pocket into the muddy water at his feet. In fact he did not realize until hours later when the work was completed and the hole was filled in that his phone was missing. In the end his phone was a small price to pay to protect the quality of our water in Lake Erie. Thankfully his wonderful wife, Bernadette, raced out to get Frank a new phone and update it with all his contact information. After all his phone is his lifeline to you, our clients.
On-Call Waterproofing @ The Great Big Home & Garden Show February 3 - 12, 2017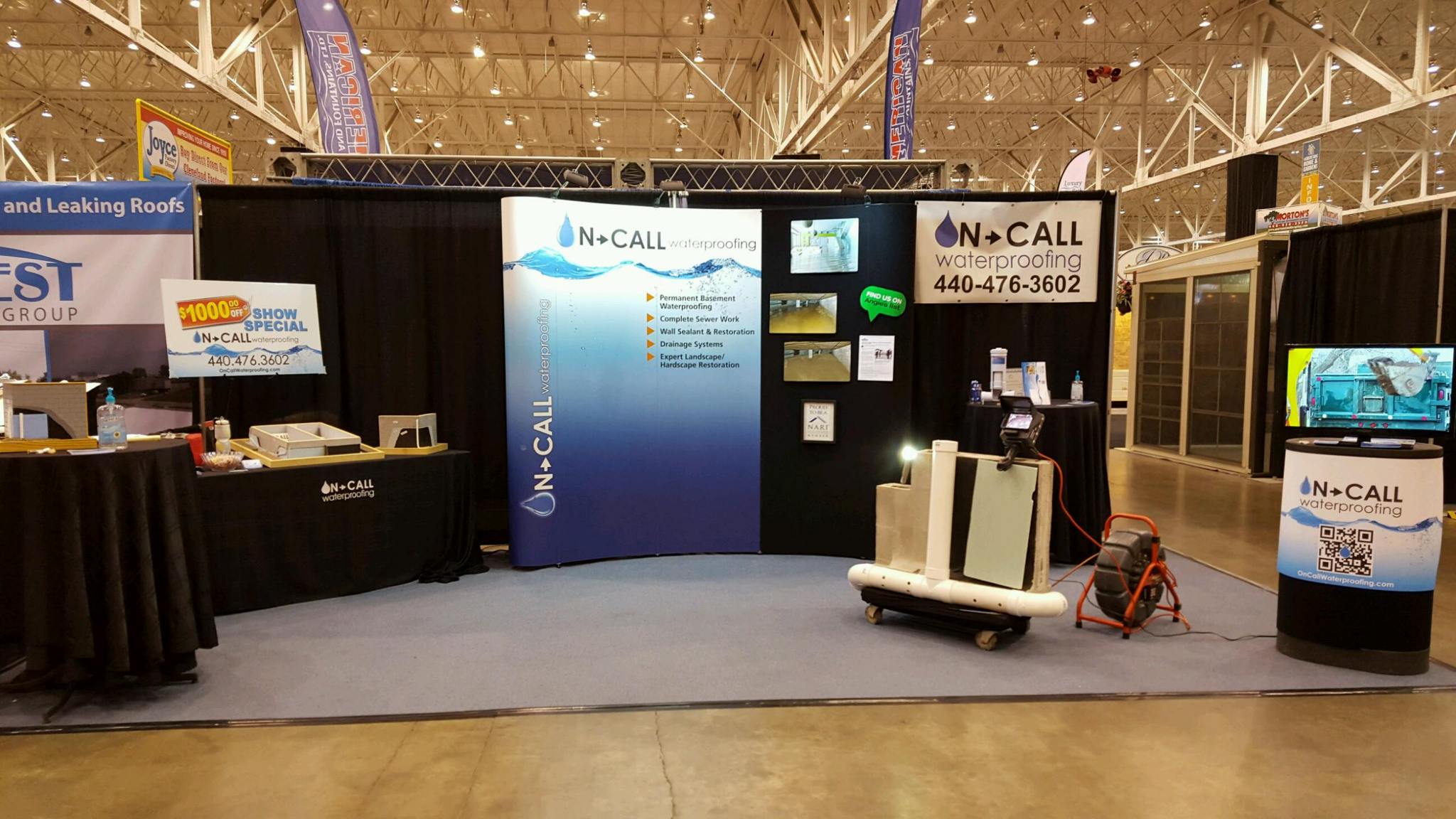 We will be attending The Great Big Home & Garden Expo at the IX Center - booth #283. Home owners can bring photos and questions about basement waterproofing and we were happy to share our knowledge and expertise with them to help home owners understand their basement water issues.
We will demonstrate how our sewer camera and locator works. This non-invasive and cost effective approach to determining the source of water problems allows us to find the source of a water backup without tearing up a homes lawn and landscaping. Contact us and ask us your toughest water issue questions, we can help.
Sign up for a waterproofing quote at the show from On-Call Waterproofing, sign the contract for our services within 90 days and you receive $1000 off our quote for waterproofing your entire basement or $200/wall for individual basement wall waterproofing.
---
Basement Water Issues Identified and Repaired
12/30/2016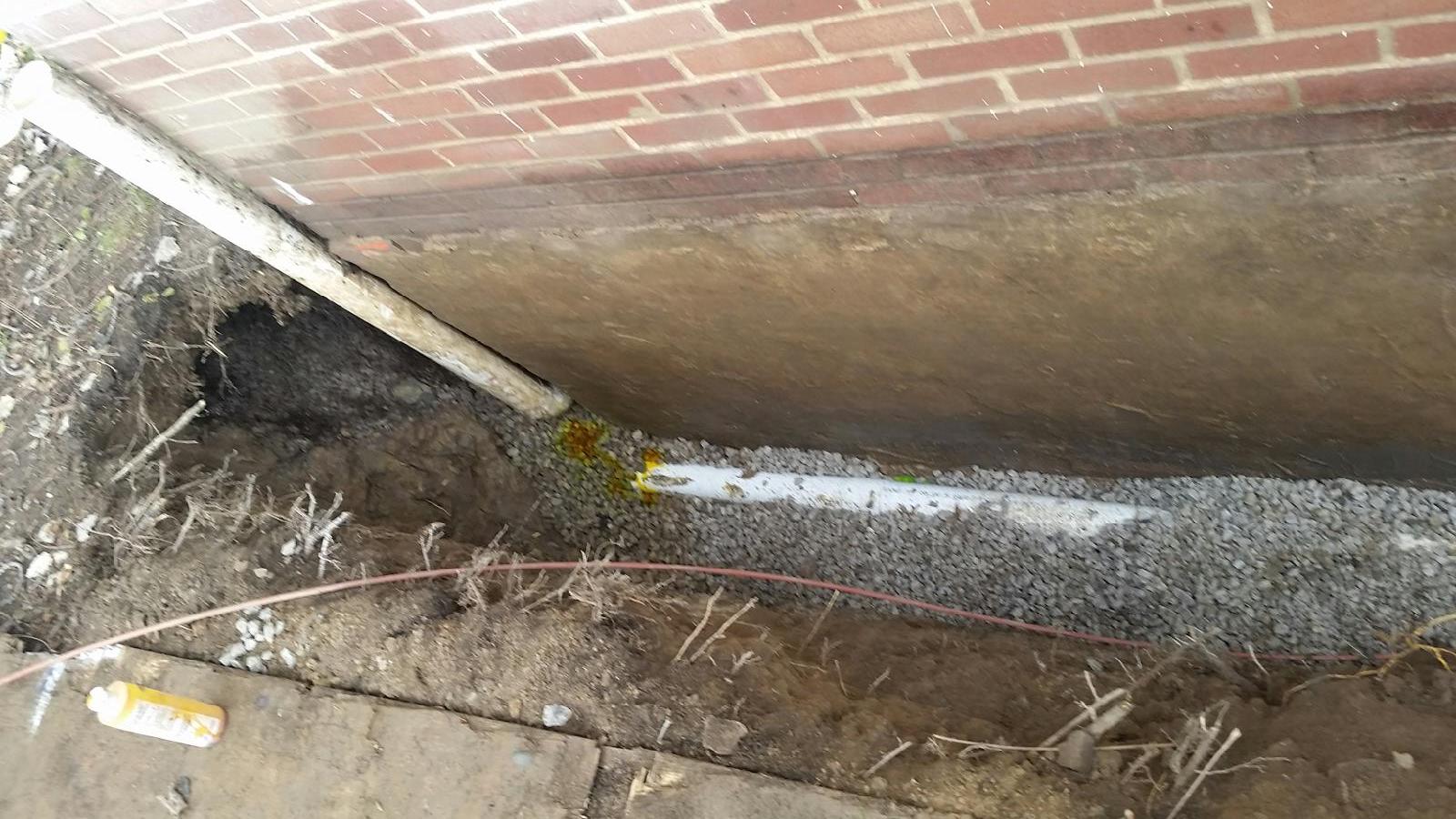 The green die in the picture on the right is used to test the proper connection of a customers sanitary sewer line. Their previous sewer line had sewer leakage into the soil surrounding their home. If you have concerns about your sewer lines and potential leakage at your house we can test your lines and if fix the problem should we find one.
The photo at right shows fresh mortar applied as a solid surface to strengthen the block cavities of our clients basement wall. If you see cracks in your basement walls on the inside there are cracks in your basement walls on the outside. We can help. We have solutions to protect and repair your homes foundation.
---
IS YOUR BASEMENT READY FOR WINTER?
12/22/2016
By Pat Adams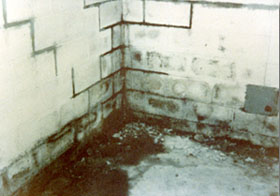 Winter is officially upon us. As you prepare for the holidays and new year have you checked your basement? Do you have cracks in your walls? Do your walls show signs of seepage or staining?
The freezing and melting weather pattern of northeast Ohio add to the problems for your basement walls. Unfortunately the expansion and contraction of water freezing and melting that causes the potholes of winter also causes issues to your basement walls. If you suspect or see a problem with your basement call us. The sooner you address your concerns the better it will be for you and your home.
---
Do You Have Basement Tree Root Penetration?
09/15/2016
By Pat Adams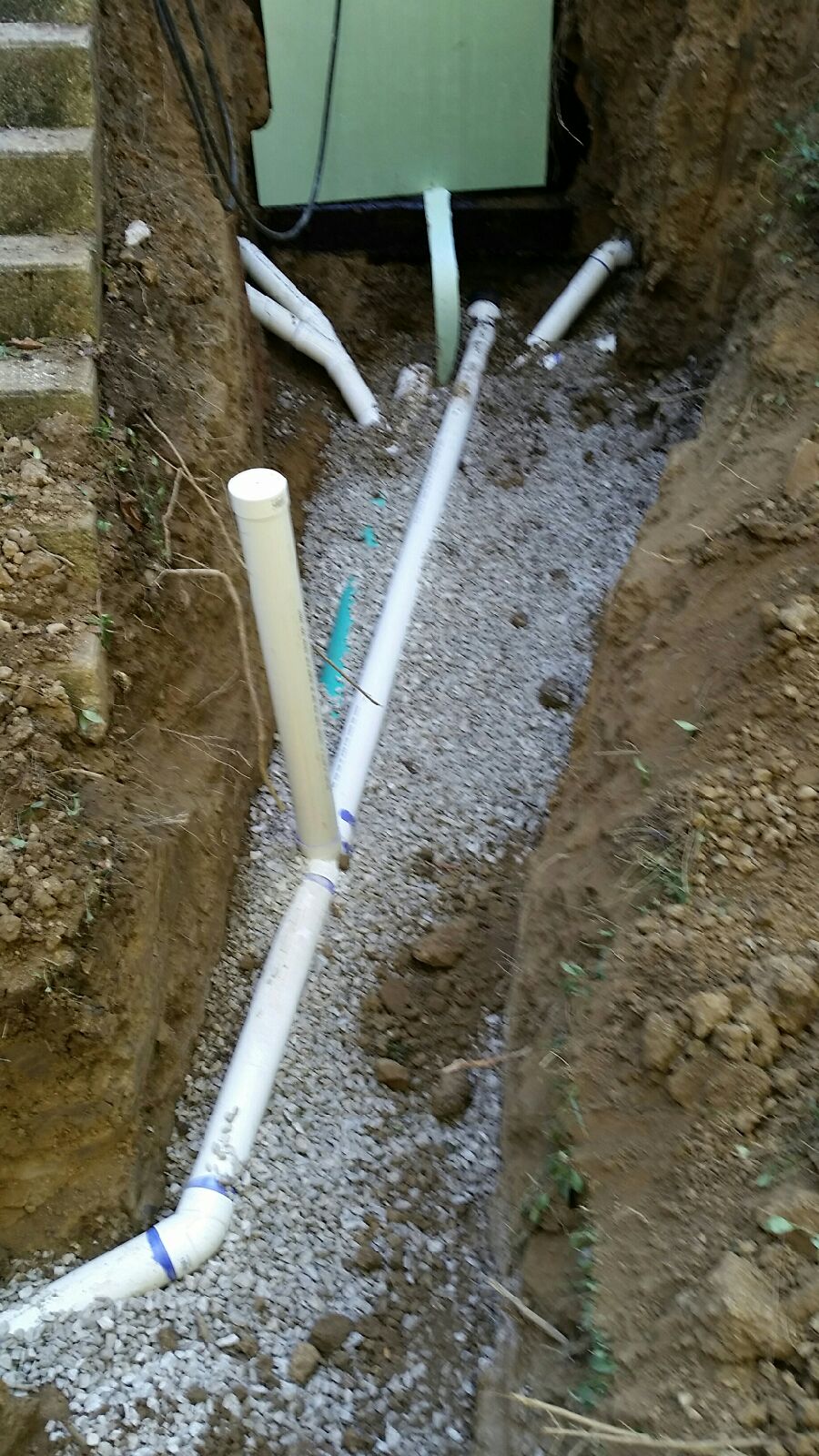 It has been a long dry hot summer for we Clevelanders. Thirsty trees seeking water are causing basement and sewer line problems.
Today we have a crew working in Independence to correct a problem created by thirsty trees. The home owner noticed a small area of water penetration in the corner of her basement. Using our sewer scope we were able to find the literal roots causing the problem.
Unknown to the home owners tree roots seeking water created a crack in the basement foundation and in the homes sewer pipes. Raw sewage had been slowly draining into the creek behind their home. Their young children like to play in the creek.
The good news is Frank and his team are on the job fixing the problem. We are taking care of the offending roots, the cracked sewer pipes and the basement water issues. Finding the problem early saved the homeowner future health issues, money, and basement water grief.
Are your drains slow? Do you hear a gurgle in your toilet? Do you smell any sewer odor or mildew in your basement? Do you have a damp corner or wall in your basement? A yes to any of these questions may indicate a problem.
Thirsty trees seeking water can create problems. Many homeowners will not find these problems until we have significant rain fall or snow melt. Save yourself time, frustration and money by checking your basement for water penetration. If you suspect a problem call us 440–476–3602. We can schedule an appointment to review your problem.
"An ounce of prevention is worth a pound of cure." ~ Benjamin Franklin
---
Is the crazy weather flooding your basement?
08/12/2016
By Pat Adams
Up until this week Cleveland had been experiencing a drought. With this weeks severe storms and next weeks forecast our drought may be over. Unfortunately for some it is causing basement water issues. If you have water in your basement contact a basement waterproofing specialist. The cause of the water problem will not get better. The problem will not go away. Whatever caused the water in your basement should be identified and resolved as soon as posible to minimize issues with your home, health and ultimately your pocket book. The problem may be found with our sewer scope and quickly be resolved. The cause may be more involved. The only way to know what is happening is to get a professional out to evaluate the problem and locate the source.
Call On-Call at 440–476–3602. We can help with your basement water problems.
---
On-Call Waterproofing will be at the 2016 NARI Home Improvement Show January 21 - 24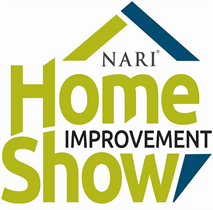 Stop by booth 1354 and say "Hello." We will be on hand to answer all your questions about basement waterproofing.
If you book On Call Waterproofing to quote you on waterproofing your basement at the NARI Home Improvement Show we have a super promotion for you....
If you hire On Call Waterproofing within 90 days of receiving your written quote we will give you a $1000 discount. A great deal on great service. If you need help with water in your basement stop by our booth at the NARI Home Improvement Show and tell us how we can help you.
---
The Benefits of a Utility Line Locator & Sewer Line Cameras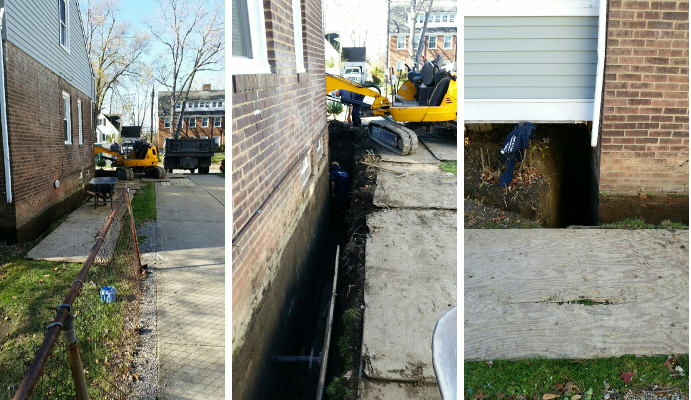 Basement water problems are no fun. Clean up is a pain and finding the source of the problem can be even more challenging. Often times you front lawn is dug up in search of the source of your water problem. This often involves locating your utility lines. We at On Call Waterproofing feel your pain. To cure this problem we have invested in more sewer cameras to help us find the exact location of your water problem and a Line Locator to identify the location of all underground utility lines.
The results for our customers is a more cost effective and expedient way of locating the source of their basement water problems and a more efficient way of correcting and eliminating the problem. We do not need to dig up your front yard "hunting" for the source. We do not have to wait for the utility companies to identify their lines while you risk further water damage and flooding in your basement.
We are very happy to have great solutions at our fingertips. If we can help you with water issues, call us today at 440–476–3602 before you have problems again.
---
Tree Roots in Drain Pipes Cause Basement Water Problems for Walton Hills Home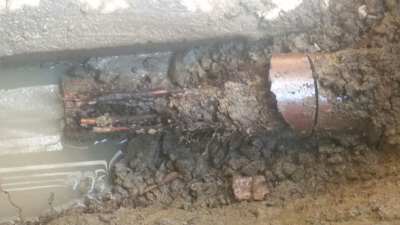 There are a number of reasons homeowners experience water problems in their basements. This past week we worked on a home where tree roots had grown into the drain pipes. When the Cleveland area had bad rain storms, as we often do this time of year, water would puddle in the homes basement. It was not a horrible problem yet. However it is best to take care of water issues before they become a major problem.
We were able to identify the problem using our sewer line scope. After confirming the source of the problem was indeed tree roots we were able to let the homeowner know what we would need to do to fix the issue. We dug around the foundation of the house, removing the offending tree roots and put in a new drainage system.
Many homes in Northeast Ohio have water drainage issues. If your home has such issues we can help by scoping your sewer lines and identifying the source of your drainage problem without digging up your basement floor or front lawn. Once we know the source of your basement water problem we will formulate a solution. Call On-call.
---
Waterproofing 101
Originally Published: 04/24/2015 by mimivaderhaven™
by Laura Briedis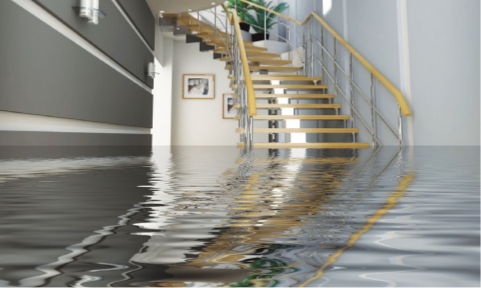 When it comes to diagnosing and repairing water intrusion problems, Frank Tomaro, of On-Call Waterproofing, is the kind of guy you want with you in the trenches. Find out why he insists on trying to save his customers money-first.
Founded in 1999, On-Call Waterproofing is a contractor known for providing practical solutions and honest advice. You can also add helping customers save money to that business equation.
"Recently we did a spot repair job for a North Royalton homeowner," says Frank Tomaro, owner of On-Call Waterproofing. "The couple had just spent $17,000 to have their basement waterproofed by another company, and after the very next rain storm their basement flooded again."
"When we went out to evaluate the problem, we used a sewer camera and saw that the sewer was blocked by tree roots, so we dug out 10 feet of sewer, cleaned out the debris, and replaced the pipe," he says. "This $1,500 repair job is all the homeowners needed from the start because they did not have a waterproofing issue with their foundation. It was a sewer problem."
Knowing the difference between flooding and seepage and how both are telltale signs of a different problem, explains Frank, is a key to fixing water issues at the lowest cost to the homeowner.
"Don't confuse flooding and seepage," he says. "If your walls are moist and a little water is seeping in, you probably have a waterproofing issue. On the other hand, if you get a couple of inches of water in your basement after a storm, the culprit most likely is the pipes and sewers."
Educating homeowners is the hallmark of On-Call Waterproofing, where there are no high-pressure salesmen, just the owner who personally evaluates the home and writes the estimate. And being a certified master sewer builder, Frank is uniquely qualified when it comes to troubleshooting and finding the source of the problem.
"The best waterproofing systems keep water outside your foundation, not inside," explains Frank. "All architects and engineers expertly design it that way." Offering the latest technology, such as camera scoping and sewer line jetting, is part of the On-Call Waterproofing advantage.
"We charge $250 for the camera inspection and that cost is credited to the price of the job if you have us do the work," he says. "With it we can eliminate the guesswork and zero in on the problem, saving thousands of dollars."
"As a preventive measure we can also install a back flow device on pipes carrying water from your home to the city storm sewers," he adds.
If there is a bigger waterproofing issue with the foundation of your home, the company will permanently fix it from the outside.
"The best waterproofing systems keep water outside your foundation, not inside. All architects and engineers design it that way."
"Some companies will use interior waterproofing methods, but it's a water control technique not a waterproofing solution," says Frank, comparing it to a bandage covering up the real problem. "We work from the outside in. You may not be able to control water, but you can control its effects on your home."
On-Call Waterproofing uses an exterior sealant and well-designed drainage system to protect your foundation and walls against cracking, wood rot, pest infestation, and mold. "When excavating, we carefully remove and save any trees and bushes and put down ground protection mats to create a working platform," comments Frank. "And after the job is completed, we put the landscape back the way it was before we started the job. It's all part of our mindset of treating every yard like it's our own."
If needed, the company also can rebuild walls in your basement, and it offers hardscape and landscape services to handle every aspect of the job.
"With spring storm season here, you want to do everything you can to prevent a leaky basement," states Frank. "Make sure all culvert pipes are clear anywhere water discharges, including gutter downspouts in the ground, to help keep the water flowing freely away from your home. And, remember, we are always on call to assist with any water issues."
When you call On-Call Waterproofing, owner Frank Tomaro personally answers all calls at 440-476-3602. Visit the company website at OnCallWaterproofing.com to view a video of a basement waterproofing job from start to finish.
With its sewer camera inspection service, Frank Tomaro's On-Call Waterproofing can locate any line blockages and eliminate them before they cause basement water intrusion. Do the other guys do that? Waterproofing 101
For bigger waterproofing issues with the foundation of your home, the On-Call Waterproofing will permanently fix it from the outside.
Save $50 on a Camera Inspection! For a limited time, On-Call Waterproofing can zero in on the problem through camera inspection for Mimi readers for $200. Call 440-476-3602 by May 31, 2015 to schedule
---
Help My Basement is Flooded!
03/16/2015
By Pat Adams
We hear this a lot. This week we are working in a Parma home installing back flow valves on the sanitary lateral and the storm lateral to prevent future flooding. Basements in Ohio often have moisture issues this time of year due to overwhelming snow melt. This winter has been particularly bad because of the long cold spell. The snow base kept building up without any warm-ups to decrease the base. All this moisture is bad news for home-owners. The good news is we can help. We can repair the damage and install a great basement waterproofing system in your home. Your home is protected from bad Cleveland winters with On-Call Waterproofing.
---
Flushable Wipes are Not So Flushable
02/19/2015
By Pat Adams
The product advertised as "flushable wipes" it turns out can cause major issues when flushed. Take the case of a basement sewage backup of a Broadview Heights home. This past week we were called out to find the source of a basement backup that had the whole house smelling foul.
Using our sewer jet with camera we were able to find the backup in the clients sewage line and through some delicate maneuvering pull the clogging agent out of the sewer. The culprit? Flushable wipes. The sewage pipes in the 1950's era home were ceramic and though functional there are some rough edges and small cracks. One such crack caught the fibers of a passing flushable wipe and then another and another until the pipe was completely plugged. The sewer water could not move forward to the street so it backed up into the basement.
On-Call Waterproofing was able to resolve the problem and clean up the mess without having to dig through the basement floor or the front lawn. Our Sewer Line Camera Scoping identified the problem and our Jetting removed the blockage. The cost or our services were significantly less in dollars, stress, time and repair than the old fashioned method of digging everything up.
We also offer preventative maintenance scoping. We can look into your lines and make sure you do not have any blockage developing. We will clean out the lines and make sure you do not have any issues on the horizon. Call On-Call for more information or a quote for services. call us: 440–476–3602.
---
Article
Save My Basement!
Originally Published: 06/17/2014 by mimivaderhaven™
by Beth Newcomb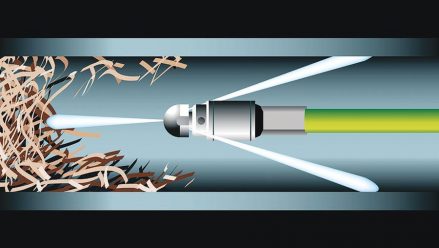 It's not as shocking as it seems
A Westside homeowner had water in her basement every time it rained. And, as any proactive person would, she called in waterproofing companies, collected estimates, and then selected the team she felt would do the best job. Her basement waterproofing was addressed as it should have been-from the outside-and the crew left her feeling confident that she'd never have to worry about mopping up after a storm again.
Imagine her stunned expression when, during the next downpour, water managed to find a way into her lower level living space once more. As it turns out, the problem wasn't a leaky basement at all but was instead the result of a sewer pipe not being connected at the street. To top it all off, the woman had signed a contract with the waterproofing company that took away some of her legal rights, leaving her with limited recourse.
First and foremost, insists Frank Tomaro, owner of On-Call Waterproofing, you should never, ever have to give up your rights to have your basement or other contract work waterproofed. "It's unthinkable," he stresses. "I tell all of my potential clients exactly what to expect before I even send them a contract. Once I do, they can see plainly that we stand behind our work and they are not going to be forced to give up legal recourse. I even encourage them to check out the Ohio Attorney General's website. It's shocking how many waterproofing companies have lawsuits pending against them. In the 15 years that we've been in business, we've never even come close to litigation."
"We do what's right for our customers-always," Frank emphasizes. "I treat every one of them like a family member. I treat every yard as if it were my own. We do what we say we're going to do and we do it well."
Offering the latest technology, like camera scoping and sewer line jetting, is part of the On-Call advantage. "We want to save you time and money," he states. "If the woman we've described in this story had called us first, we could have run our camera down the line and shown her that the sewer pipe was disconnected, saving her thousands of dollars in unnecessary waterproofing."
Another homeowner, a do-it-yourselfer, decided that he was more than man enough to take on the challenges of a sewer line dig-up. After excavating his yard and replacing the pipe, he found that the problem he'd worked to correct was still very much an issue.
"He called us in to run our camera down the line. We found the issue about 10 feet away from where he'd stopped digging. The problem really ended up being a broken pipe and we had to re-do all of his work. He spent twice as much as he needed to," Frank says.
Before work begins, Frank will come to your house to do a consultation. There is no contract and no high-pressure sales pitch. Once he runs the numbers, he'll email you a contract and a price. If you decide to move forward with the work, you can.
"Input the power right into the hands of the client," he insists. The $250 charge for camera scoping is applied to your bill as a credit, should you decide to hire On-Call to do the work. If a clearable line blockage is found, Frank and his team will blast it away with water. "It's a better option than snaking," Frank says.
For businesses like restaurants with grease build up, Frank recommends routine jetting to keep lines clear. He's also worked with roofing contractors to clear gutters.
Frank, who is present on every job, is a Certified Master Sewer Builder with over 15 years of experience. He is able to bring an exceptional level of knowledge and professionalism to every project. And, when you refer On-Call to someone you know, whether you've been a past client or not, and he or she books a $2,500 or more job, Frank will send you a hundred bucks as a thank you.
Another thing Frank is proud of is the fact that he answers all of his own calls. You can reach him directly at 440-476-3602. Visit the website,www.OnCallWaterproofing.com, to view a video of a basement waterproofing job from start to finish. You can find the link to the Attorney General's website on the homepage. Also visit www.HGExpo.com to view a selection of videos featuring On-Call, including one on sewer line jetting.
---
The On-Call advantage: Sewer line jetting and camera scoping
---
pictures say more than words so we thought we would share pictures of our work.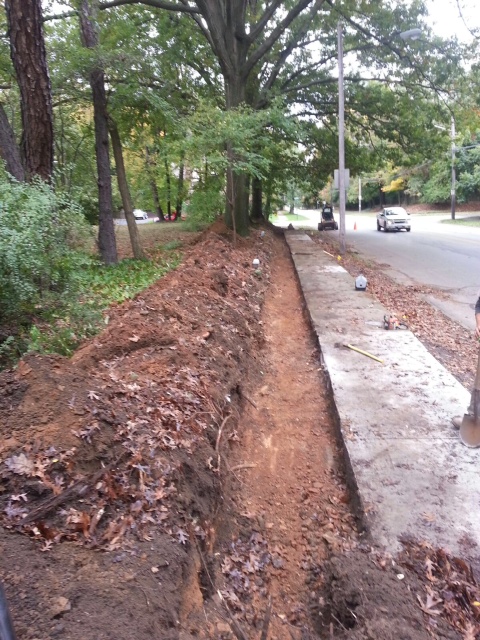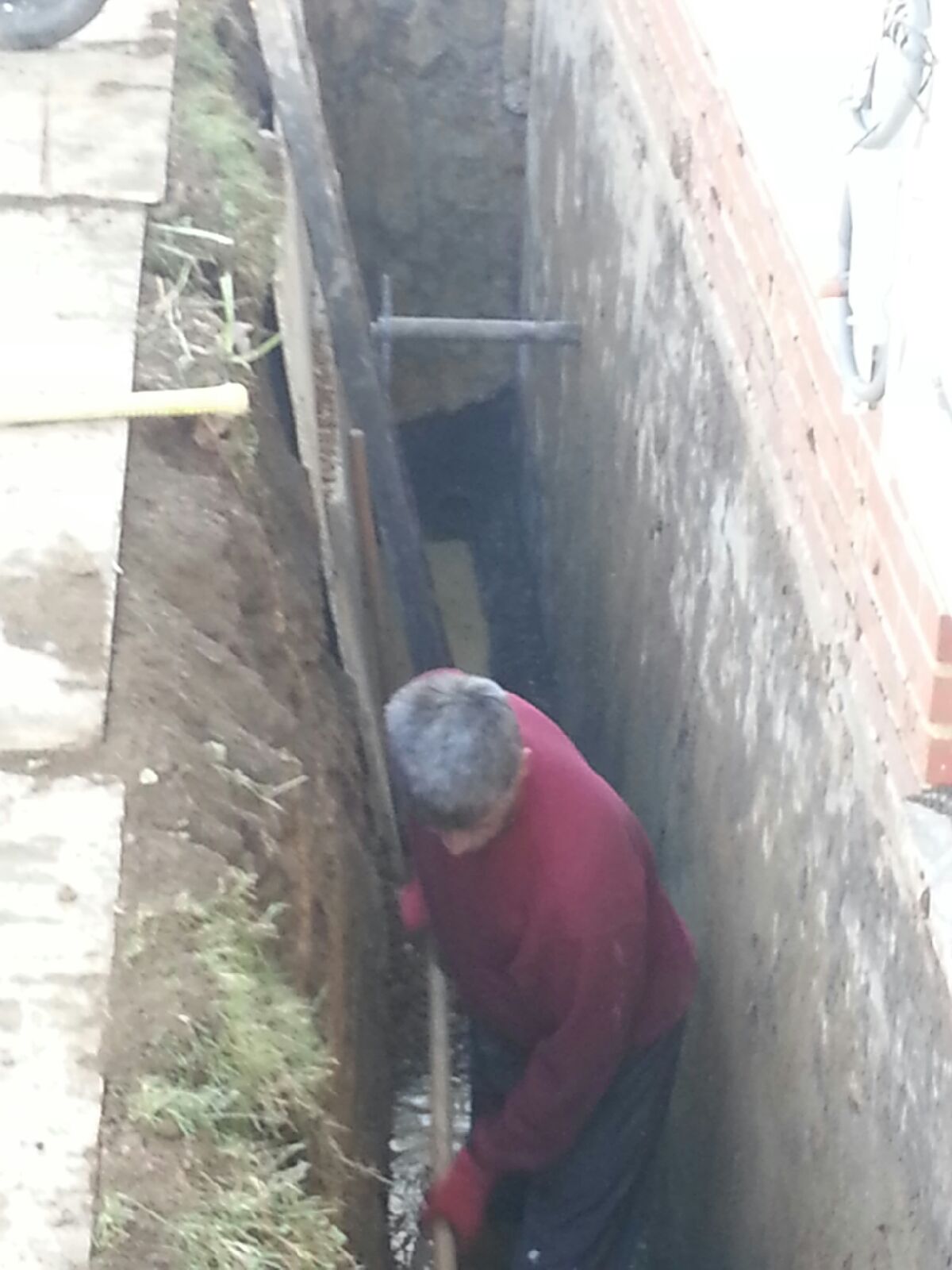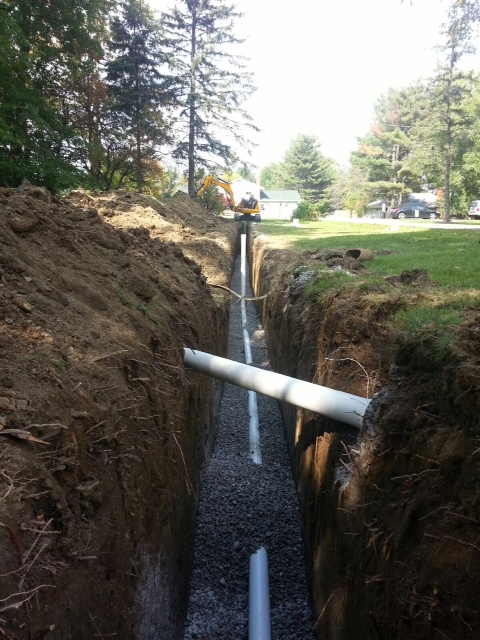 ---
Article
Save My Basement!
Originally Published: 07/18/2013 by mimivaderhaven™
by Beth Newcomb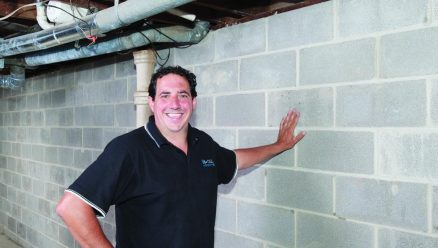 "We met Frank a few years ago at the Home and Garden Show," recalls an exuberant Elaina Zgrabik. "My husband, Jeff, and I spoke to him about fixing our basement, but we weren't quite ready at that time. This year, however, the damage had progressed to a point that we knew was the prelude to bigger trouble."
Elaina goes on to explain that her basement walls were starting to buckle under the weight of her home and that water was leaking in. She and Jeff wondered how much longer their house would remain structurally sound.
They called Frank Tomaro, owner of On-Call Waterproofing, to come out and take a look. They also called in some other companies to offer opinions and estimates, but, ultimately, they stuck with their initial plan and went with Frank.
"He sat down with us, talked about what we wanted, and then put together a plan. He offered us a permanent solution that made the most sense," Elaina says. "Because three of our basement walls needed to be rebuilt, we decided to take the opportunity presented and have the space changed to a walk-out."
"I couldn't be home for any of the work and had to exclusively rely on Frank's expertise and professionalism," she continues.
"The house had to be jacked up and I was kind of nervous about that, but Frank and his crew put our minds at ease right away. Frank was on the job, doing the excavation and running the big equipment. If he had any questions he called me at work to discuss them. He even did extra things to help me out, like replant all of my old landscaping at the back of the property.
Anthony was the bricklayer and he created our walk-out basement."
Elaina reports that during the entire process, five to seven guys were at her house working constantly and professionally.
"These guys were clean, clean, clean," she proclaims. "I could not believe how clean they kept everything, and there had been a lot of rain. If Frank told me the crew would be there at 7:30 a.m., they were there at 7:30 a.m."
Frank and his team come equipped with the latest technology, and a shop on wheels, to save you time and money.
"Before we even begin our work we notify your neighbors that we'll be on your property," Frank inserts. "Then, we carefully remove and save any trees and shrubs and put down a plywood sidewalk to protect your grass. Because we bring our shop on wheels with us, we never have to leave a job to go to the store for pieces and parts. I also buy all of my materials in bulk and pass the savings on to my customers."
Frank, who is present on every job, is a Certified Master Sewer Builder with over 15 years of experience. He is able to bring an exceptional level of knowledge and professionalism to every project.
"We do what's right for our customers—always," he emphasizes. "I treat every one of them like a family member. I treat every yard as if it were my own. My goal is to never have to come back to your home. We don't use subcontractors and we don't have outside salespeople."
When completing a waterproofing job, On-Call's standard is to install a half-inch of foam insulation that acts as a vapor barrier on the exterior as part of the regular price. "Some companies use visqueen only but that doesn't do the job. Our insulation will keep the interior of your basement from feeling humid," Frank elaborates.
"Even after the recent 16-day record-setting rainfall of over 7", our basement looks, feels and smells dry," says Elaina.
"I could not have had a better experience," Elaina smiles. "I would suggest that anyone considering basement waterproofing call Frank. He'll take care of you."
And, when you refer On-Call to someone you know, whether you've been a past client or not, Frank will send you a hundred bucks as a thank you.
Another thing Frank is proud of is the fact that he answers all of his own calls. You can reach him directly at 440-476-3602. Visit the website, www.OnCallWaterproofing.com, to view a video of a basement waterproofing job from start to finish.Visit www.HGExpo.com for even more information.