Customer Satisfaction and a Job Well Done are On-Call's Top Priorities
Our customers say it better than we can, so read on. Or call us and you find out for yourself why people say such great things about On-Call - 440–476–3602.
During the past 7 years, On-Call Waterproofing has done work for me. They have waterproofed my home, poured my driveway and patio, and installed a sewer line that needed replacing. All work was completed to my satisfaction and has not leaked or presented any problems due to the work completed. I am happy with their work. I would certainly recommend them to anyone and have done so on several occasions." ∼Kathy R.
---
Frank, I have to tell you, the finish you and your crew did on our concrete is THE nicest I have seen anywhere. Concrete is what it is, but you made it look the best it can be. You did a great job, thank you.... I'm just bummed the bad weather is around the corner and I'm not going to be able to finish it all off and enjoy the patio until next year." ∼ Sue M, November 2011
---
Frank, Thank you for all of your hard work on my basement. Even though there has been a lot of rain, my basement is dry and I don't have to worry about it anymore! I also want to thank you for being direct and honest. I had estimates from many companies, but they tried hard to sell me things I knew I didn't need. There were a couple where I was uncomfortable having them on my property! By far you were the most trustworthy and I didn't feel like you were trying to scam me. I am very happy that my coworker recommended you. Thank you again.." ∼ Jessica Y November 2011
---
Our home came with interior basement waterproofing - that didn't work. Heavy rainfall always brought flooding, and rendered the basement useless, at best. On-Call Waterproofing identified how the flow from my neighbor's property cascaded right into my home. Proper placement of a swail redirected the water into the creek behind the house and gave us back a cozy, dry basement." ∼ Tim O., Richfield, OH
---
We had to have new gas piping through our yard. I almost didn't realize On-Call Equipment had come and gone. My yard and garden were practically intact!" ∼ David W., Bath, OH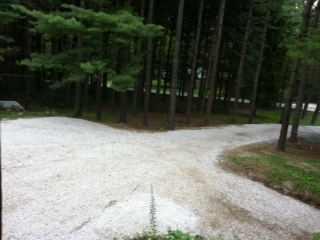 ---
What happens to a steep gravel driveway following heavy rains and deep snow? Staggeringly deep ruts that can bury a small car like mine, and which make getting home virtually impossible without 4WD, AWD or a winch. So a friend had his gravel driveway "treated" and it rode almost as evenly as asphalt. I wanted some of that. And that's how I came to call Frank at On Call Equipment.
Frank came out, and gave me an estimate that didn't take my breath away. Watching him work was a thing of beauty (if you can appreciate the "wa" of a man in a machine, reconfiguring your front yard with zen ease). But the true beauty was in the results. Not only did the gravel drive LOOK well-groomed, it was a dream to drive on. He corrected grading flaws that came with the house (as well as some we made all by ourselves) and piled leftover stones behind the barn. And he did it all in a day.
True test - the flood rains we had last weekend: driveway intact, dry garage, no swamp puddles. This guy knows what he's doing." ∼ Ellen P., Brecksville, OH
---
On-Call delivers outstanding service everytime. Check the Ohio State Attorney General's Website. We do not have any complaints filed against us.